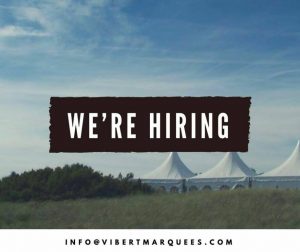 As a well-established local business, we supply marquees and related equipment to public and private events including weddings, parties and festivals throughout the year.
With the full calendar of events for 2021 and beyond we are looking for reliable people who enjoy physical work outdoors and who can work as part of a team, to join us.
A positive and problem-solving attitude and ability to work on your own initiative are essential.
We offer flexible part-time hours and welcome applications from people looking to work from 2 up to 5-6 days a week.
We are also looking for full-time staff and offer training and career progression opportunities.
Start dates available from April 2021.
To apply or for further information please contact us at [email protected]
You will be:
-installing our range of marquees
-dressing marquees for weddings and events
-loading/unloading equipment from vans/trailers
-cleaning/refurbishing equipment
-warehousing